Beatriz
"What struck me was the freedom our children had to go to school by bike on their own"
I was born in the city of Barquisimeto, Lara State, located in the central-western region of Venezuela. It is also known as "the musical capital of Venezuela" because of the great number of musicians and composers that have come from there. It is also considered the city of twilights because the colours of its sunsets are spectacular.
I studied at the Pedagogical Centre of Barquisimeto and graduated as an English teacher. After working for 2 years as an English teacher, I got a scholarship to do a postgraduate degree in Linguistics and Didactics in France. After finishing my studies, I returned to Caracas in Venezuela where I had the opportunity to work as a Technical English teacher at the University. It was during that time that I met my husband, who is an architect. We got married and emigrated to Bonaire (Netherlands Antilles) in 1990 where he had accepted a job. At that time, there was a teaching agreement between Venezuela and the Caribbean islands for Spanish teachers. That is how I came to work for the Venezuelan Institute of Cooperation as a Spanish teacher and coordinator of the cultural activities of the Institute. It was an enriching experience since I got to share the culture and traditions of my own country while at the same time learning theirs.
We lived in Bonaire for 10 years and that is where my children were born. In 1998 we returned to Venezuela when my youngest son was 3 years old. However, in 2002, due to the political instability in the country we decided to emigrate to The Netherlands in search of a safe place to live and a better future for our children.
We arrived directly from Caracas to Almere. A city which was completely unknown to me. My husband, had learned of the housing project in Almere when he studied architecture. And it was like utopia to him. Who could have imagined that many years later our family would be living there? Our apartment was located in the old centre, in the 'Bankierbaan', in front of the town hall. Then, the shopping centre of Almere, only consisted of the part that runs from MacDonalds to the Central Station. The new library didn't exist and neither did the present town hall building. I remember that Almere only had about 170,000 inhabitants.
One of the first things that struck us was the freedom our children had to go to school by bike on their own. This is something unthinkable in Caracas. Another thing that impressed me was to see the seriousness with which 'Sinterklaas' is received. The tropical version of 'Sinterklaas' in Bonaire, does not ride a horse but is driven around the island in a car in a state of inebriation.
It was not difficult for us to adapt in Almere, everything here is modern and besides that we never felt like the only foreigners living there, we are just another foreign family. Also, I can find everything I need to cook our traditional meals, like for example the flour I need to cook our 'arepas'. Next to cooking, I like working with cold porcelain for a hobby. This is delicate and laborious craft that offers me many hours of enjoyment and satisfaction.I would not change Almere for another city. We have all contributed to making it a multicultural city but there is still much to do. Just as the city's slogan says: anything is possible in Almere.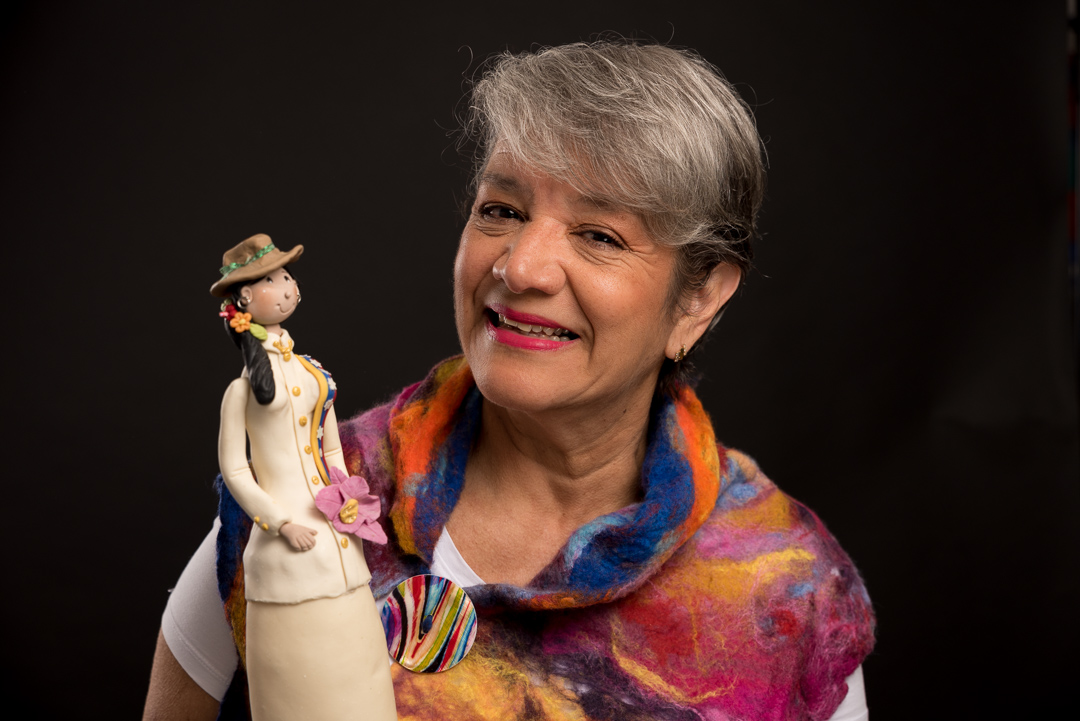 | | |
| --- | --- |
| Photos, Interview and Text: | Lyla Carrillo Quan - van der Kaaden |
| Text Revision: | Babette Rondón |
| Fotostudio website: | www.101studio.nl |